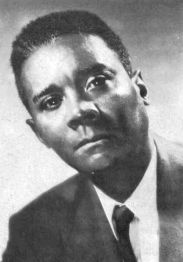 "Black history is rich, inspiring, and unknown. Black people revolted against the slave raiders in Africa; they revolted against the slave traders on the Atlantic passage. They revolted on the plantations... the only place where black people did not revolt is in the pages of capitalist historians."
—
Cyril Lionel Robert James
James was an Afro-Trinidadian historian, journalist, socialist theorist and essayist who dedicated his life to rediscovering that history and realizing the vision of socialism from below through collective struggle
Join us to discuss the life and legacy of a revolutionary who has inspired thousands to struggle for a better world
The Rochester City Branch of the International Socialist Organization meets
Thursdays at 7:00 PM in room MC-1 of the Miller Center at 25 Gibbs St,
across from Java's in downtown Rochester.
Want to read ahead or learn more?
"
The Revolutionary Answer to the Negro Problem in the United States
" C.L.R. James
"
Race, Class, and Marxism
" Keeanga-Yamahtta Taylor
"
CLR James and African American Liberation
" Scott McLemee
"
Hubert Harrison and CLR James on Socialism and Black Liberation
" Scott McLemee